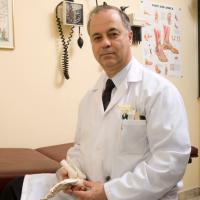 Dr. Goldenberg is a specialist in the field of Lower Extremity and Podologic Medicine, Geriatric Medicine, Internal Medicine and Orthopaedic Medicine.   He is a member of the University of Toronto and affiliated teaching hospitals.
His extensive experience in treating diabetic foot ailments and complex lower limb conditions has made him an integral part of our clinics. He also performs cortisone injections for the hip, knee and foot as well as for ankle arthritis, bursitis and tendonitis.
Every patient is treated with care, compassion and thoroughness in order to relieve their pain and get them back to doing their favourite activities.