Custom Orthotics
Alleviate pain and stay active with orthotics custom-designed for your feet and activities.
Stay active without foot pain
When your feet and body feel great, you walk more, exercise more, and do more of the things you love. Foot and leg pain can have a negative impact on your work, mood, and even your overall health. Furthermore, there are so many products and treatments on the market, it's hard to know what to choose or who to trust.
Your One Stop For Foot and Leg Pain Relief
Our team consists of Canadian certified pedorthists and other medical professionals specializing in foot and leg treatments. Since 1997, We've helped thousands of people overcome foot and leg pain, including everything from sore feet at work to severe diabetic foot complications. Learn more
Our Custom Orthotic Fitting Process
When you book a custom orthotics assessment at Walking Mobility, you will be triaged to the appropriate specialist where we will start by learning more about you.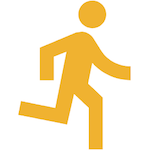 Your History and Lifestyle
How often do you sit or stand at your job? What activities do you do? What previous injuries have you had? We use this info to build a personal profile for you.

Your Feet and Walking Gait
Everyone's feet and walking gait are unique. We conduct a thorough analysis to measure the length, width, and arch height of your feet and understand how they are affecting your body's alignment when you stand or walk.

Your Recovery Plan
Finally, we recommend a treatment plan focused on improving your symptoms and keeping you active. This can include orthotics, proper footwear, bracing, or a referral to another specialist, even in-house.
Custom Orthotics Made Just For You
Our custom orthotics are very different than regular insoles. They are 100% custom medical devices provided by a certified specialist. Your design will combine specific materials to suit your activities and footwear.
Book an Appointment with a Certified Specialist
You should be able to trust that the treatment plan you're receiving is focused on improving your health, first and foremost. We pride ourselves on delivering trusted medical advice and educating you throughout the process. Book now to see one of our certified specialists.
We stand behind what we do
One Year Free Adjustments
If your custom orthotics are ever feeling uncomfortable, we offer one year of free adjustments to ensure you get the best fit possible.