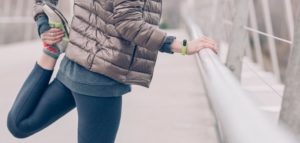 5 Great Reasons to Stay Active This Winter
1. Fresh is best
The studies keep piling up: exercising outside is better for you. Vitamin G[1] (as it's known for 'green' space) "…is associated with greater feelings of revitalization and positive engagement, decreases in tension, confusion, anger, and depression, and increased energy."
2. Colder is actually better
It's easier to run in the cold[2]—for our bodies, that is. Your heart doesn't have to work as hard, and you sweat less so you can drink (and carry) less water. In fact, the ideal temperatures for longer runs is around 10°. While it might be harder to motivate yourself to get out in the cold, it will actually be easier on your body and better for you.
3. Enjoy the ride
Think of every walk or run as an adventure—an opportunity to explore new neighbourhoods,  parks,  trails, and communities.  Run with a friend, take in the scenery, and learn to love getting outside for your walk or run.
4. Your spring-self will thank you
The benefits of regular exercise are well proven[3], so just keep on truckin. Stopping for winter will just set you back. It can take months to build up your strength and fitness level but only a few weeks to start losing it when you stop.
5. Sleep better
There's simply more oxygen in the air outside than inside, which is good for both your physical and mental health. A daily dose of fresh air can improve digestion, heart rate, blood pressure, and serotonin levels, helping to keep you calm, happy and relaxed, day and night.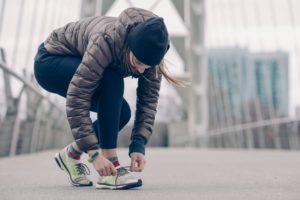 Top Tips for G

ear

ing

 Up and Stay

ing

 Safe
The right shoe and right fit
The right shoes make all the difference. Are you running or walking, on the road or trails, short or long distances, in the rain or snow? We'll help you find the best shoes with the right features.
Not only do you need the right shoes for the job, our Fit Experts will help you find the ideal match for: your unique  feet and  biomechanics,  any pain, injuries or conditions you might have, and most importantly, what feels best for you.
Shine bright
The days are grey and dusk comes early. Make sure you're highly visible out there with reflective gear and lights for your shoes, waist, arms and head.
Stay upright
Trekking poles can be a great option, especially off-road. They help stabilize and maintain balance, improve circulation, and reduce impact on knee joints and leg muscles .  
Layer up but not too much
It can feel frighteningly cold to start but within 10 minutes you'll start warming up. You won't want to be removing and carrying too many layers during your run, so dress as through it's about 20° warmer outside than it really is. 
When you're running in colder temperatures, your body redirects blood to your core to warm you up, leaving your hands, ears and toes exposed. Use a hat or headband, gloves or mittens, and wool running socks.  
Quick change post-run
If you're wet from sweat, rain or snow, get warm and dry as soon as possible to avoid your body temperature from dropping too quickly. 
REFERENCES

[1] GROENEWEGEN, P.P., VAN DEN BERG, A.E., DE VRIES, S. ET AL. VITAMIN G: EFFECTS OF GREEN SPACE ON HEALTH, WELL-BEING, AND SOCIAL SAFETY. BMC PUBLIC HEALTH 6, 149 (2006) DOI:10.1186/1471-2458-6-149

[2] MOLKOV, Y. I., & ZARETSKY, D. V. (2016). WHY IS IT EASIER TO RUN IN THE COLD?. TEMPERATURE (AUSTIN, TEX.), 3(4), 509–511. DOI:10.1080/23328940.2016.1201182

[3] WARBURTON, D. E., NICOL, C. W., & BREDIN, S. S. (2006). HEALTH BENEFITS OF PHYSICAL ACTIVITY: THE EVIDENCE. CMAJ : CANADIAN MEDICAL ASSOCIATION JOURNAL = JOURNAL DE L'ASSOCIATION MEDICALE CANADIENNE, 174(6), 801–809. DOI:10.1503/CMAJ.051351